THERMOFORMING MOULD MAKING
Thermoforming mould making is a process used by manufacturers to produce thick sheet products and thin sheet products. Machinecraft's Mould Division offers moulds for both the types of machines and processes. Many of the moulds for thermoforming are machined from aluminium and require a CNC milling machine capable of producing very smooth surface finishes.
Our company is counted amongst notable Thermoforming Moulds manufacturing, exporting and supplying companies. Look below to find our entire product category:

Thermoforming Moulds

Tea Cup Moulds
Drinking Glass Moulds
Plastic Round Container Moulds
Rectangular Sweet Box Moulds
Meal Tray Moulds
Plastic Food Container Moulds
Round Container Moulds
Quality Monitoring Process

Our foremost priority is quality and in order to bring out A-grade products a strict quality monitoring process is followed by us. When the moulds are manufactured these are dispatched into our quality monitoring wing, where our experts closely evaluate the size, dimensions, robustness and fining of the gamut. If the end product (mould) is of not the standard size and dimension the products are sent back for re-manufacturing or disposed off.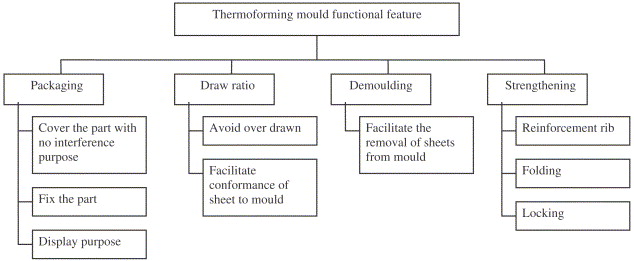 TYPES OF ALUMINIUM THERMOFORMING MOULDS
There are several different kinds of thermoforming moulds; Machined, Cast Aluminium, and Porous Moulds. Each of these different type moulds serves a different purpose, whether one's looking for a textured or multi-dimensional design, whether one is looking to have a prototype created for future refining or if the design is more set in stone and one's looking for a mole that can go the distance. Each of the molds varies in its effectiveness of use depending on their intended purpose as follows:
This type mold is most typically constructed for shallow parts with small draw ratios. Aluminum is most often used in constructing these type molds because of their ability to hold cost to tolerances. When being constructed, the molds they are mounted on a control base as a way of controlling the mold temperature as the mold is formed. A number of different mold types can be machined using aluminum molds including male and female molds and vacuum- and pressure-form molds. The preferred medium for these type molds is aluminum specifically because of its ability to offer texturing as well as features including both loose and pneumatic cores and inserts.
Zixom Plast has offers Mold  Resin which can be poured into a pattern and within a few hours, you can get an aluminium mold. Mold consists of two resin components and an aluminium filler. MOLD  are resistant to temperatures of up to 135 °C, short term exposure of up to 180 °C is possible, taking into account the lower comprehensive strength of the mold due to the temperature. In order to control the temperature of the mold during the production process, copper pipes or heating systems at a distance of 3 – 4 cm to each other and of 1 – 2 cm to the pattern's surface can be included in the casting process. To ensure the same thermal expansion coefficient only aluminium and perforated aluminium sheets (wall thickness of 2 – 3 mm) should be attached to the casting box as reinforcements, which are afterwards recast with casting resin. All inserts should have a minimum distance of 10 mm to the pattern's surface.